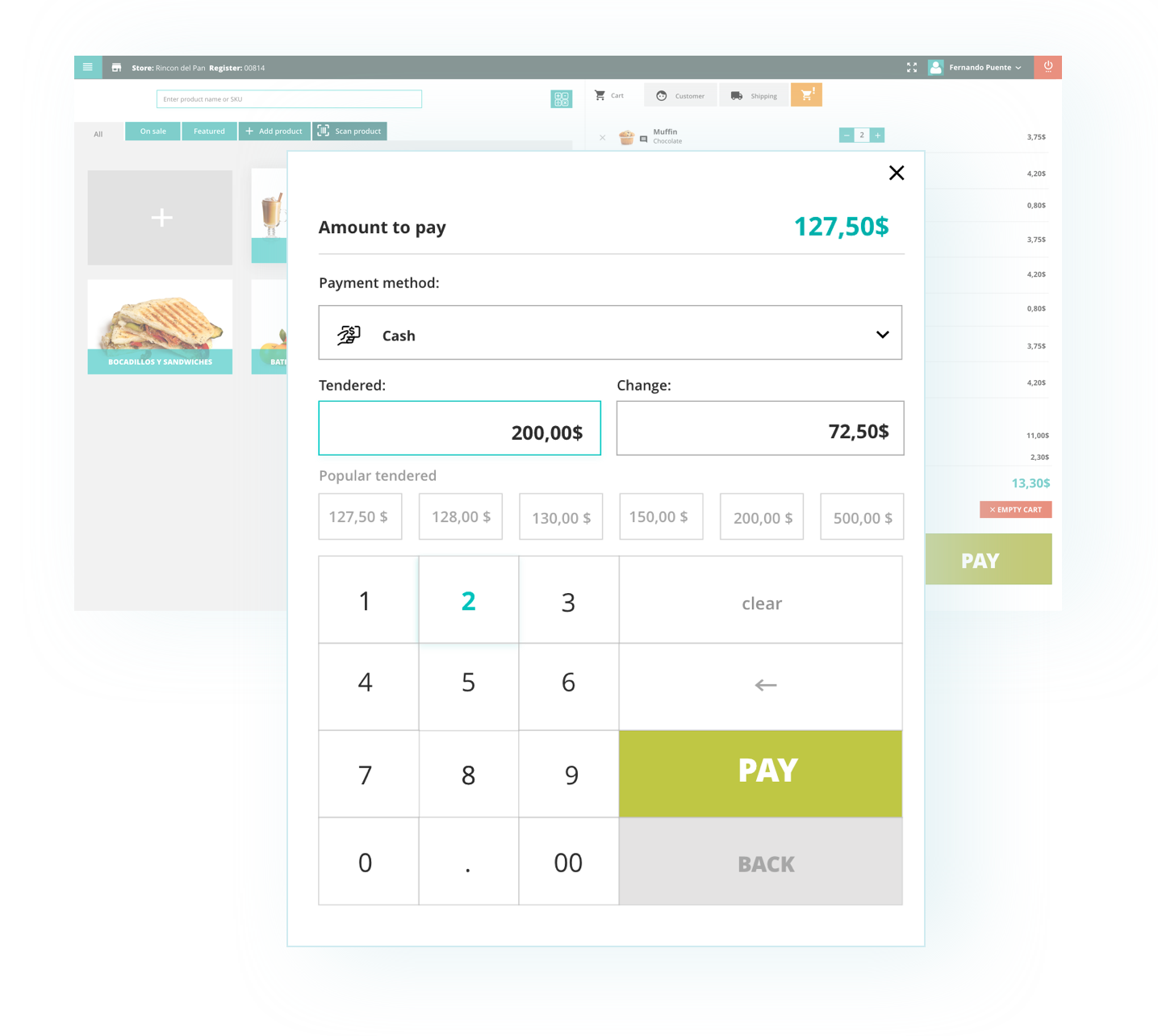 The most affordable and advanced solution to transform your WooCommerce to a Point Of Sale for your physical store.
If you need a POS to make physical sales you have two options. The most common and most expensive solution is to buy a dedicated POS terminal (prices go from €250 to €1000) and pay a subscription cost to get a specific POS software that costs around €40-50 a month. So, you'd spend an average of €500 a year on one POS terminal alone. And if you need more registers, you'll have to multiply this cost by two, three, five and so on.
The solution that we offer, instead, allows you to use WooCommerce, a free software, to transform your computer or tablet into a flexible cash register that's cheap and easy to use thanks to the integration of our POS plugin.
It doesn't matter what business you are running: whether it is a supermarket, a bar, a clothing store, a beauty salon: you'll be able to fully manage your Point of Sale with multiple registers. Set up cashiers, create products, sync orders, add markup, discounts and coupon codes, customize receipts, monitor the income of every register, the payment methods used… and much more.
A perfect integration between the POS register and your WooCommerce store
YITH Point of Sale works natively with WooCommerce and connects to your shop through the WooCommerce REST API. All orders made from the POS register on the frontend will be automatically synced to the database of your WooCommerce installation, exactly as any other information concerning product stock, customers' data etc.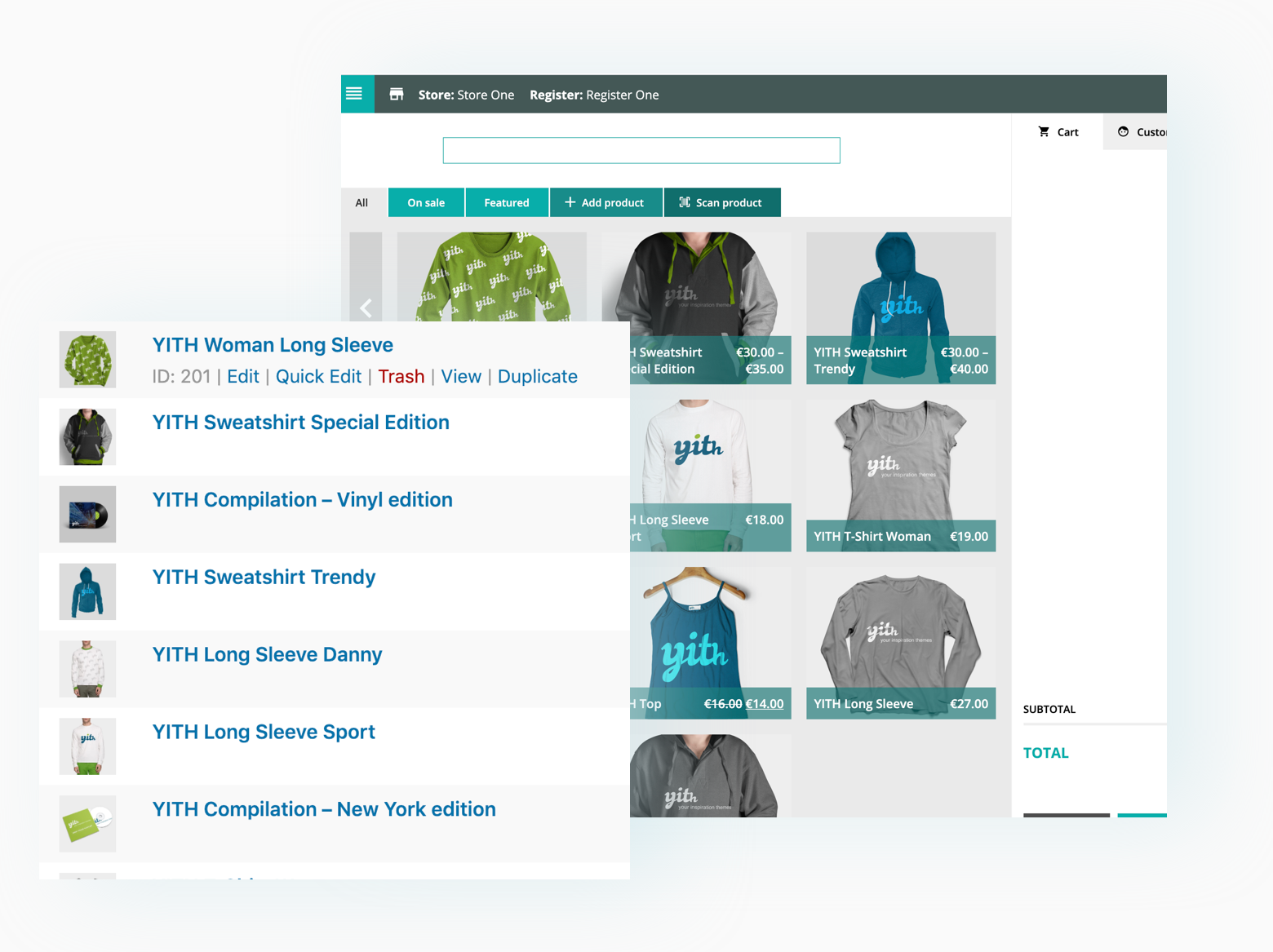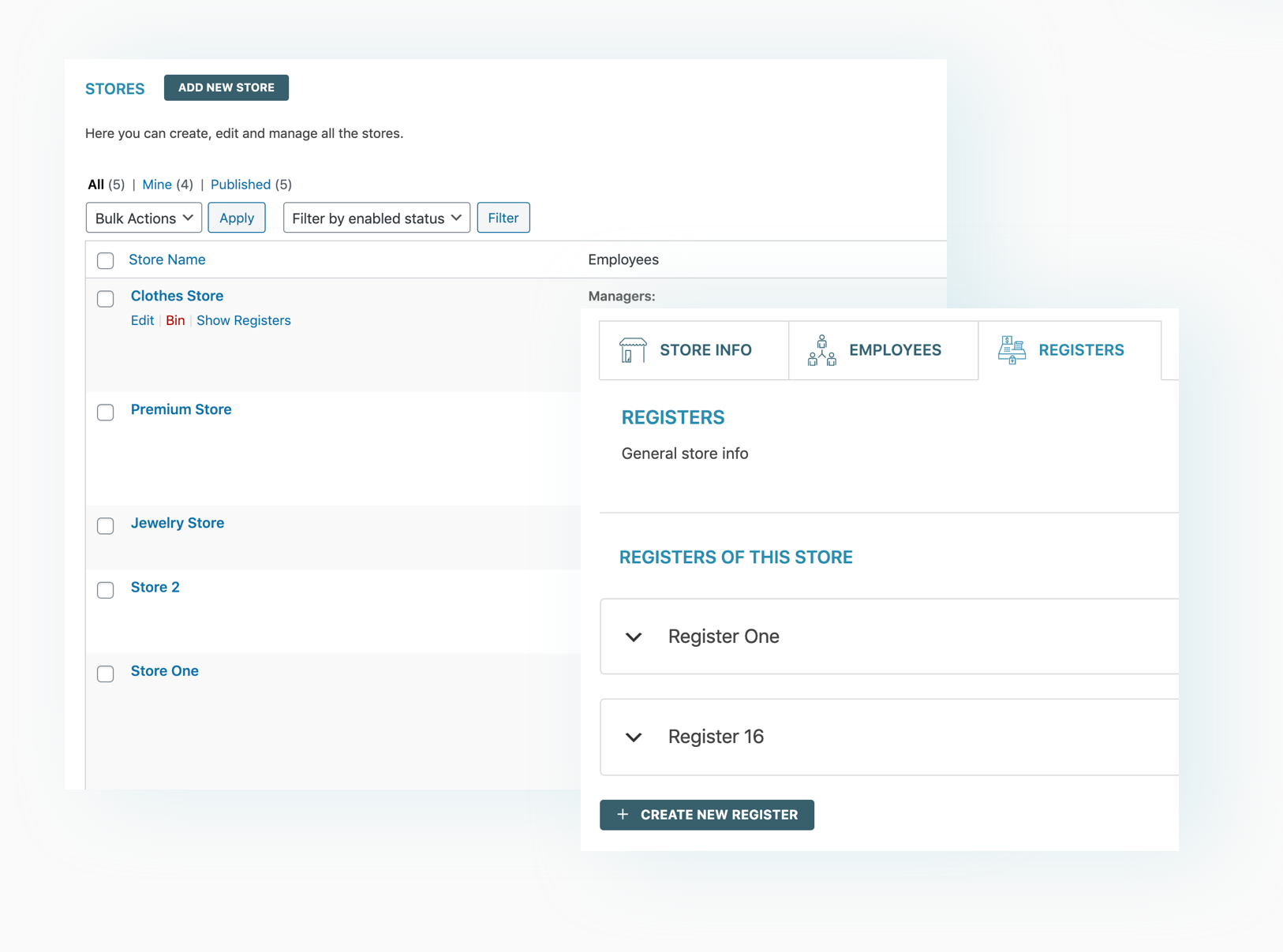 An endless number of stores and POS registers just in one installation
The plugin allows creating endless stores (if you have to manage chain stores or franchising) and endless registers (as in a supermarket with more departments and dedicated registers). For every register you can set up several cashiers, customize receipts, set up the categories and products, activate specific payment methods and more.
Monitor orders and revenue of each store and POS register from a powerful and versatile dashboard
Thanks to the integration with WooCommerce Admin panel, you can rely on a dashboard that allows analysing the sales trend and the revenue of each Point Of Sale, and to filter this information by store, cash register and date. Moreover, you can get an overview of the cashiers with the highest number of sales and of the payment methods used.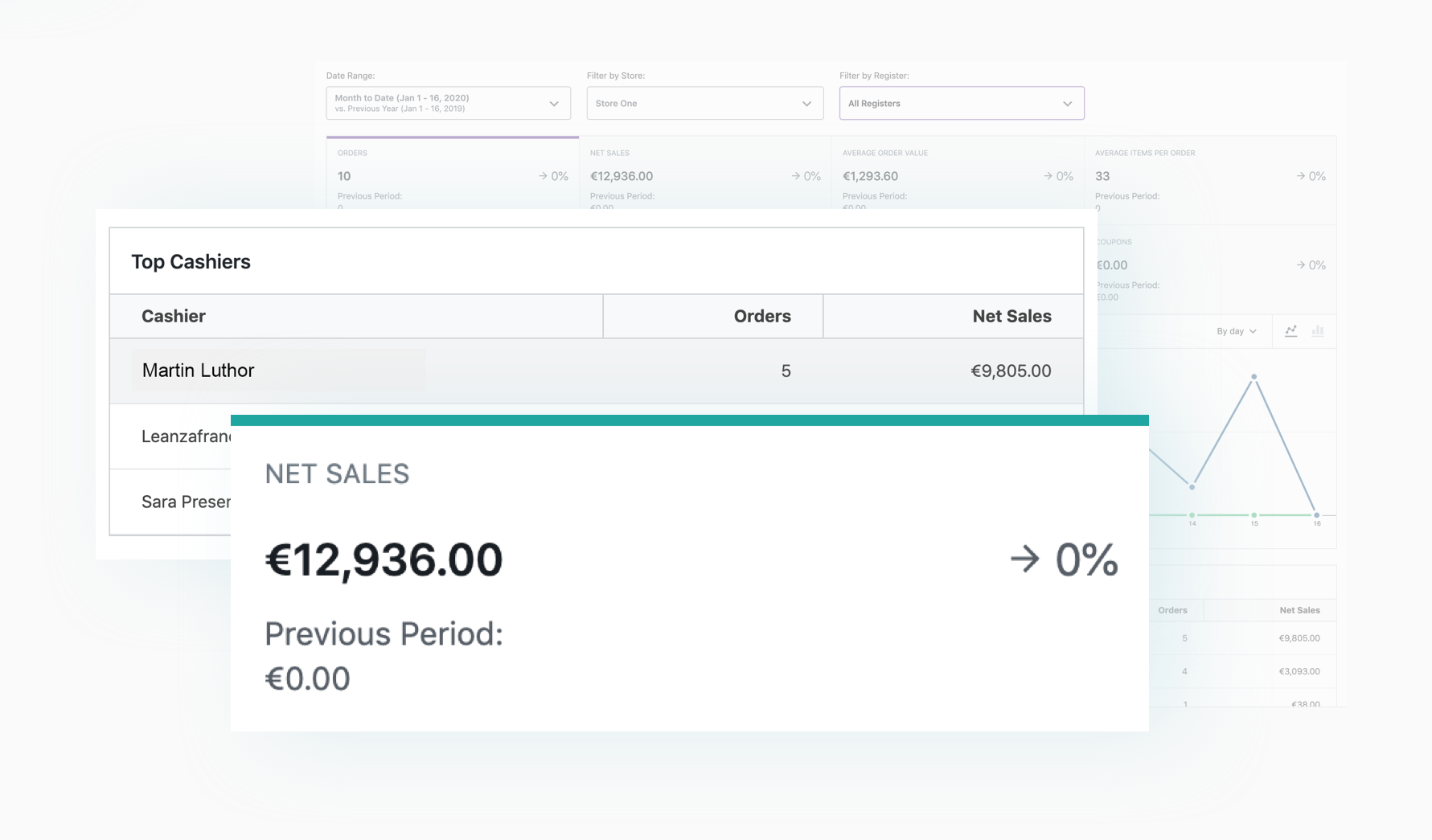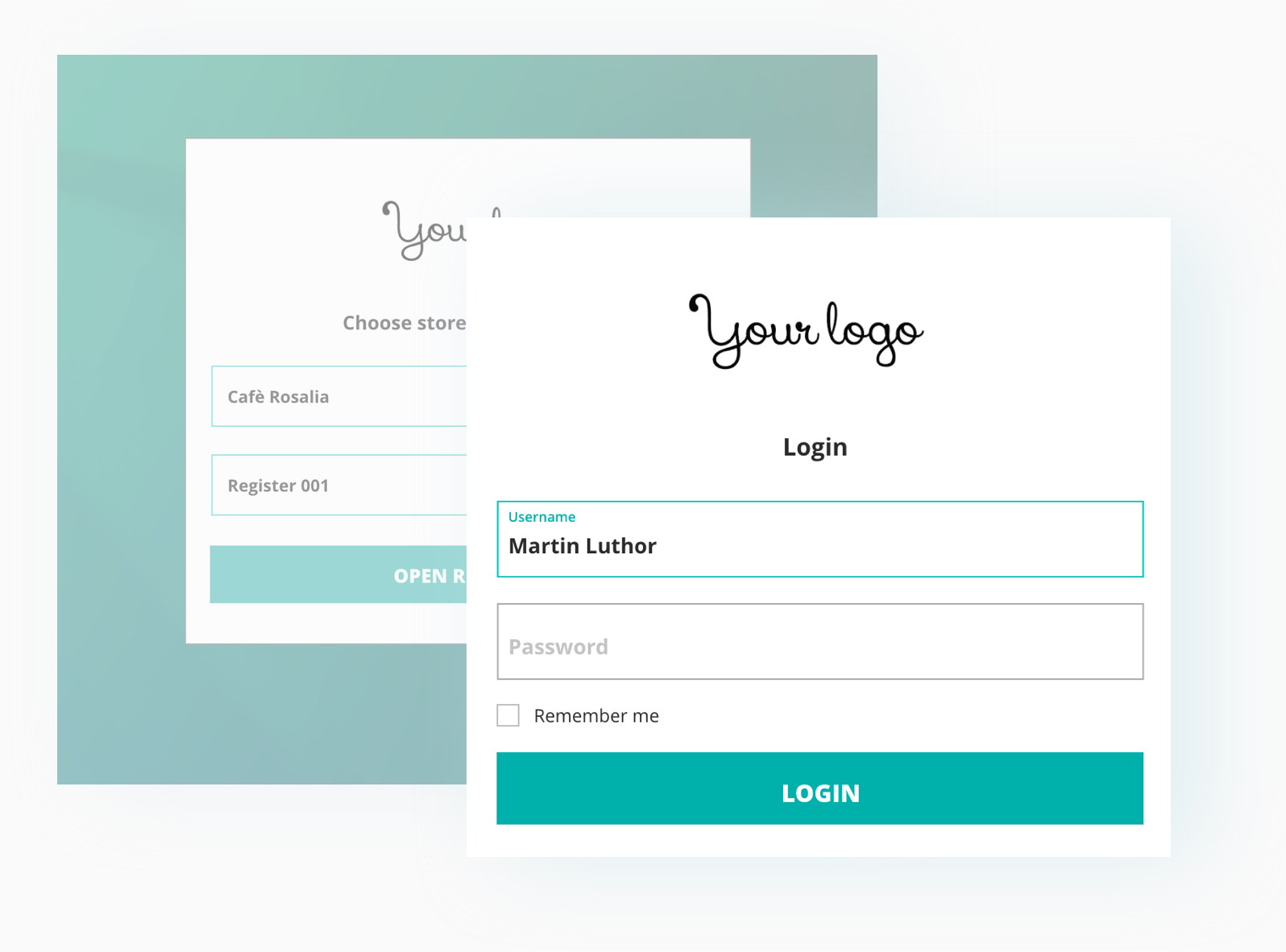 Direct access to the POS register thanks to a modern and customizable login page
Let cashiers have direct access to the registers without going through the backend of your e-commerce store thanks to a login page specifically made for them and that can be customized from the admin panel.
An engaging and usable POS register interface, perfect for any type of shop and products
We've designed a simple and easy-to-use POS register interface with a carefully designed look. The result is a view that can fit any business activity, regardless of the type of products or services sold.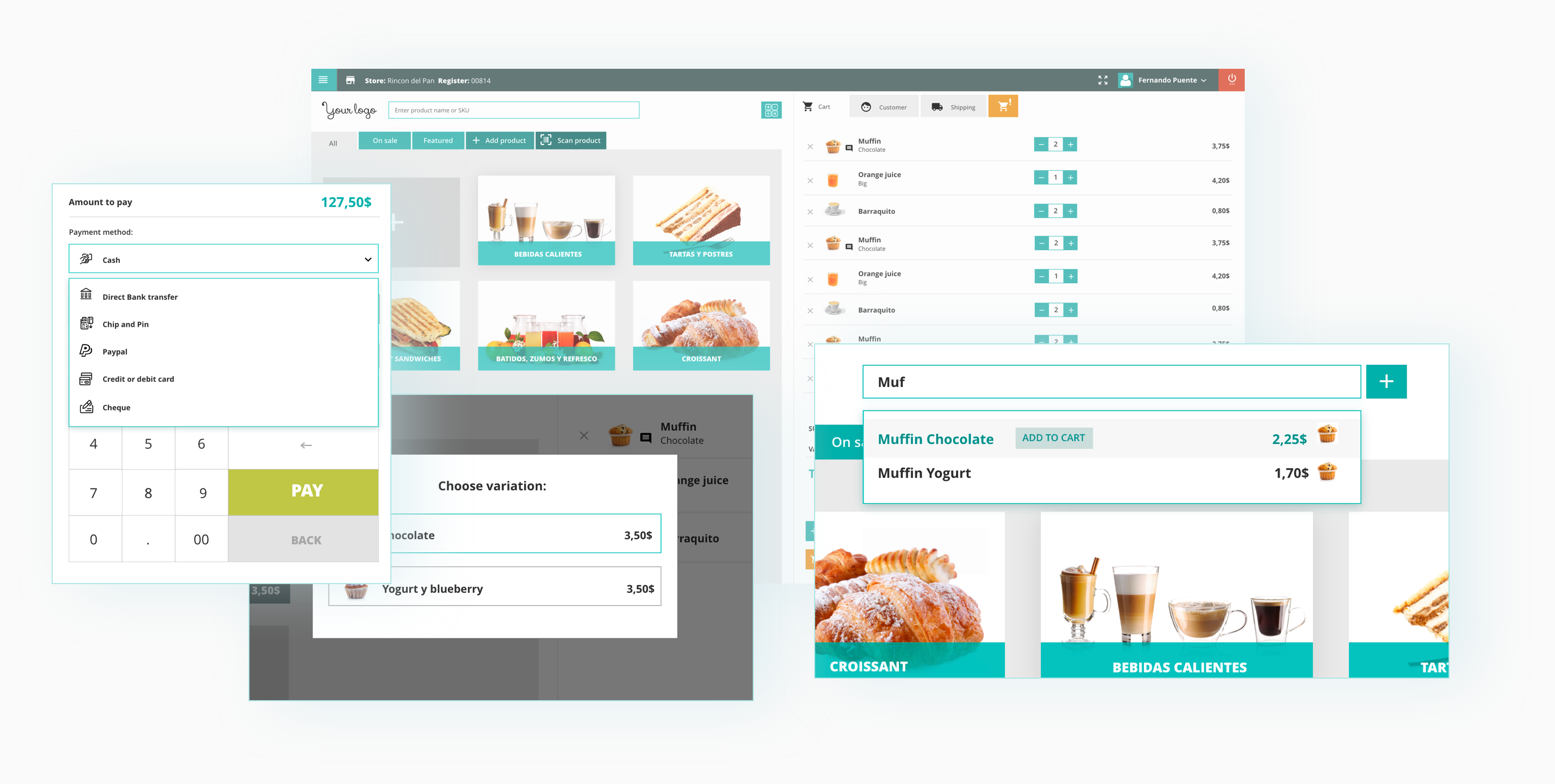 Create products and manage the stock right from the POS interface
Right from the POS register view, you can add new products, manage prices and stock and sync this information with your e-commerce store database. You can also enable the multi-stock feature and set up different stock values for each Point of Sale.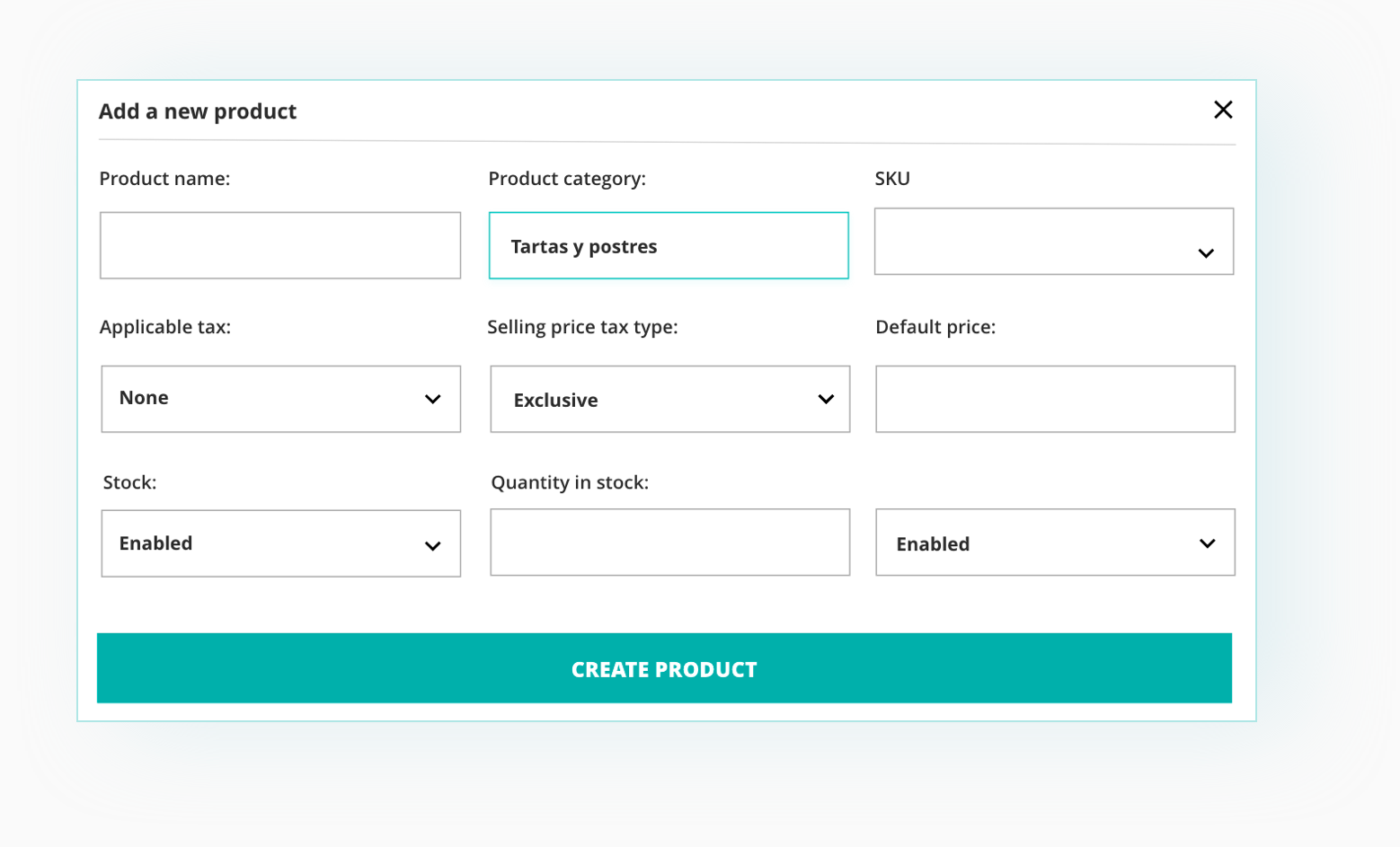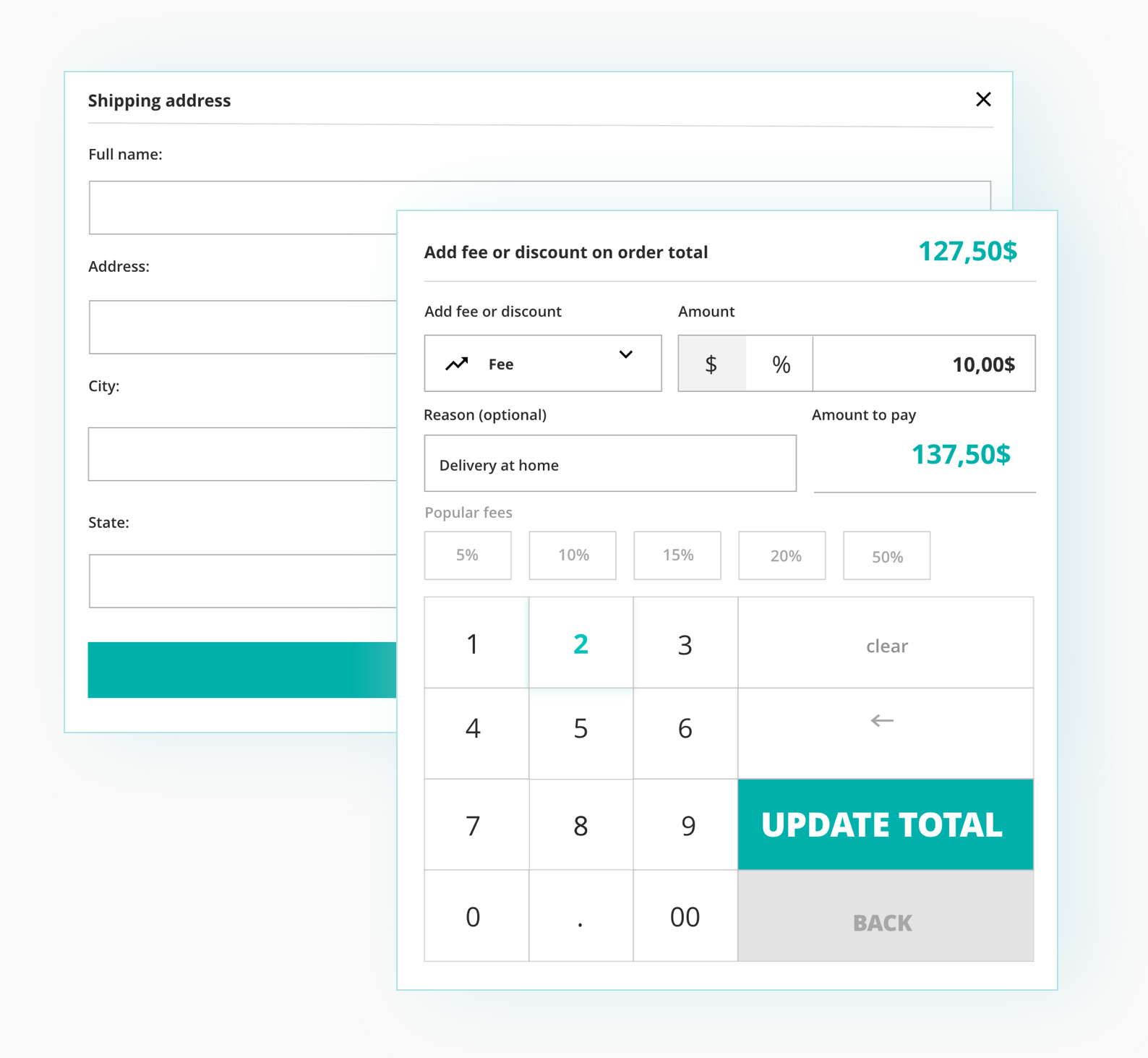 Manage discounts, coupons, markups, shipping, and add notes on products and orders
A complete order management that allows you to apply discounts, coupon codes, markup and to add notes to any product and order made through the cash register.
Retrieve saved shopping carts to complete the order at a later stage
One of the most useful and commonly used features of a cash register: thanks to the 'Suspend and save' button, you can temporarily freeze a shopping cart and save it in a separate tab, so you can open a new order. Later, you will be able to retrieve the frozen cart and pick up where you left off!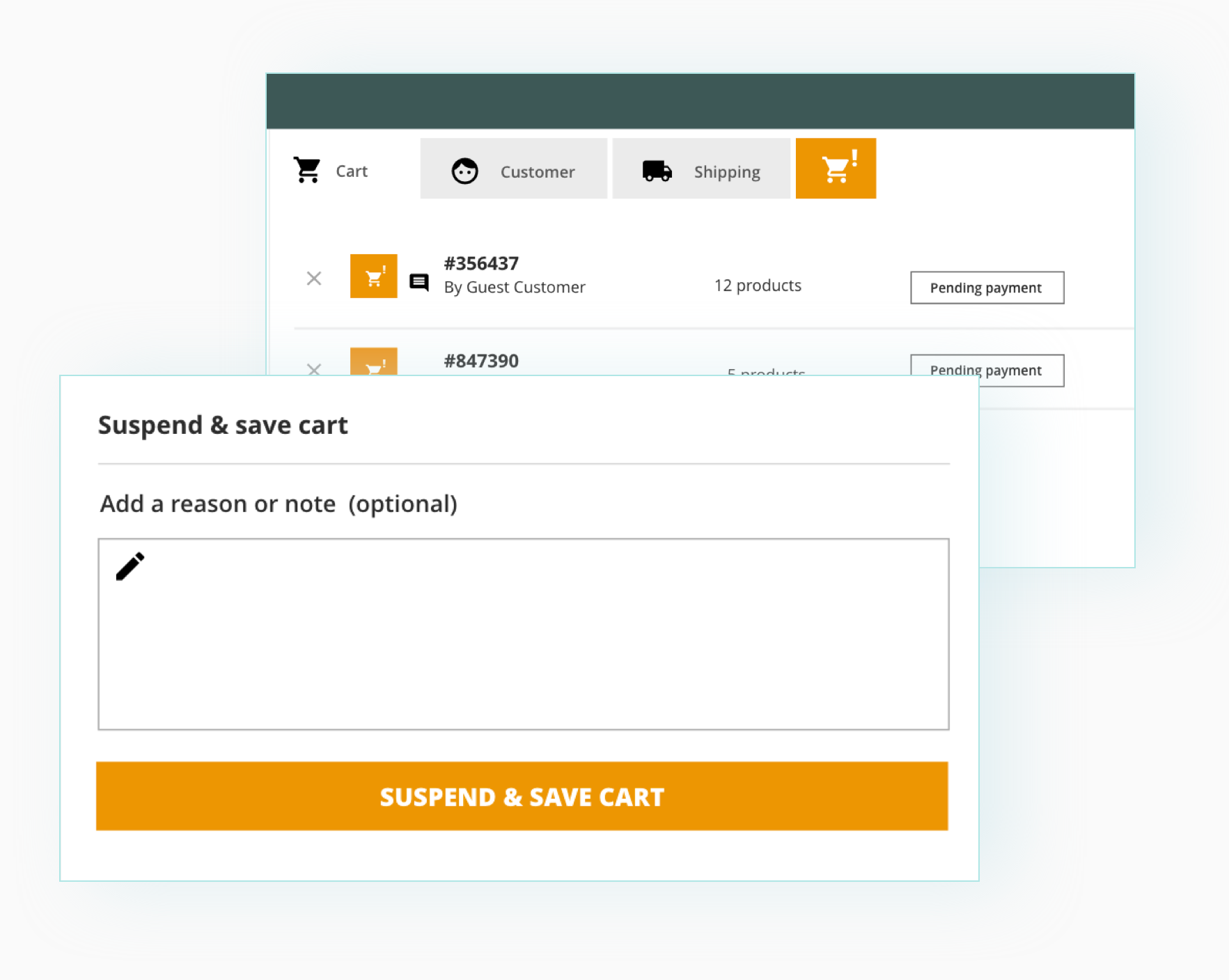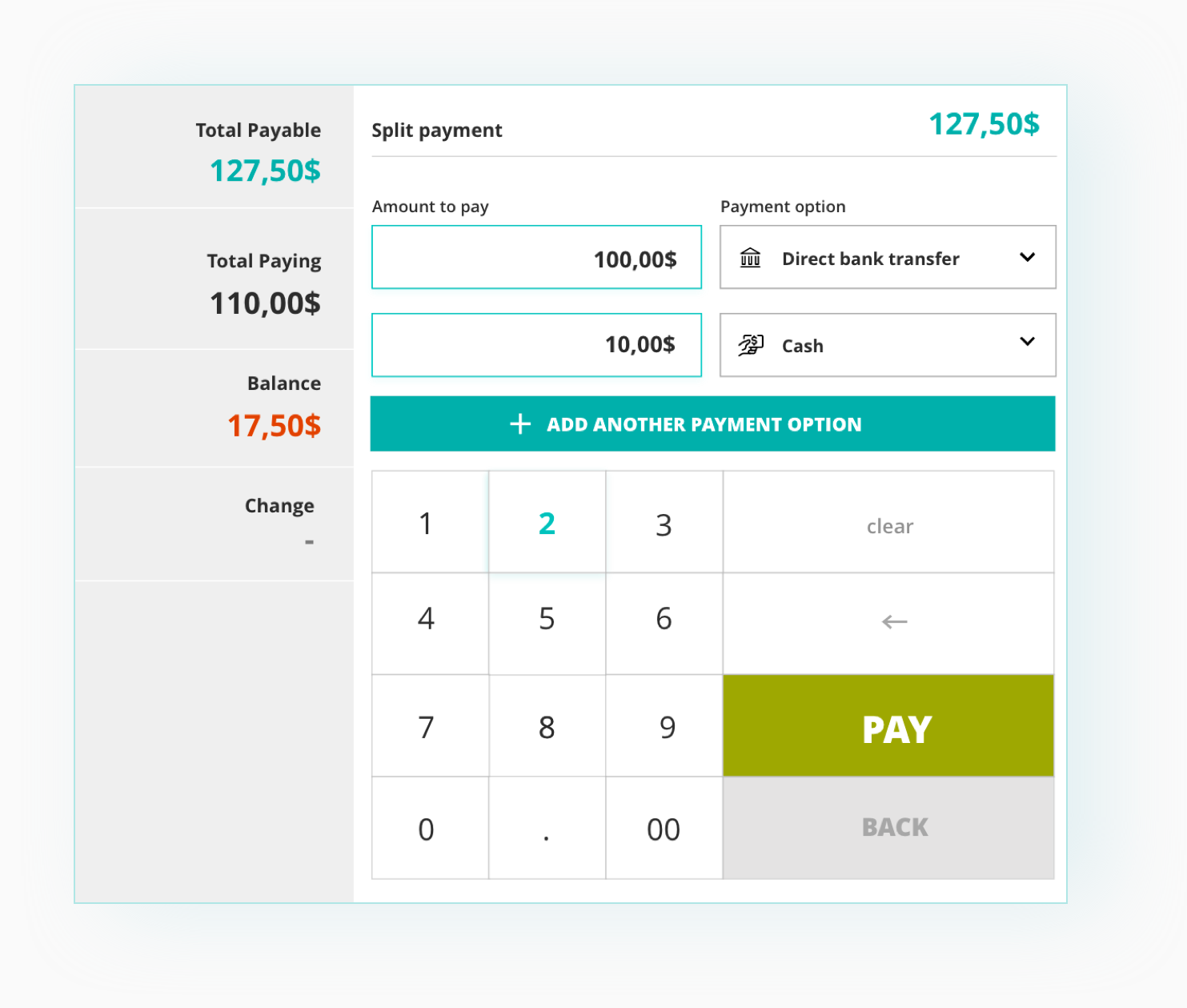 Enable multiple and split payment methods on the same order
An option that just a few of the available WooCommerce POS plugins can do and is a must-have for clients is the possibility to split the payment of the order into different payment methods. Thanks to this function, you can give your customers the opportunity to pay, for example, half with cash and half with a credit card.
Issue customized sales receipts ready to print or download them as a PDF file after the order is paid
Use the integrated builder to create and customize the sales receipt that can be printed after the order is completed. You can assign one receipt template to each register and choose the size, content, logos and more.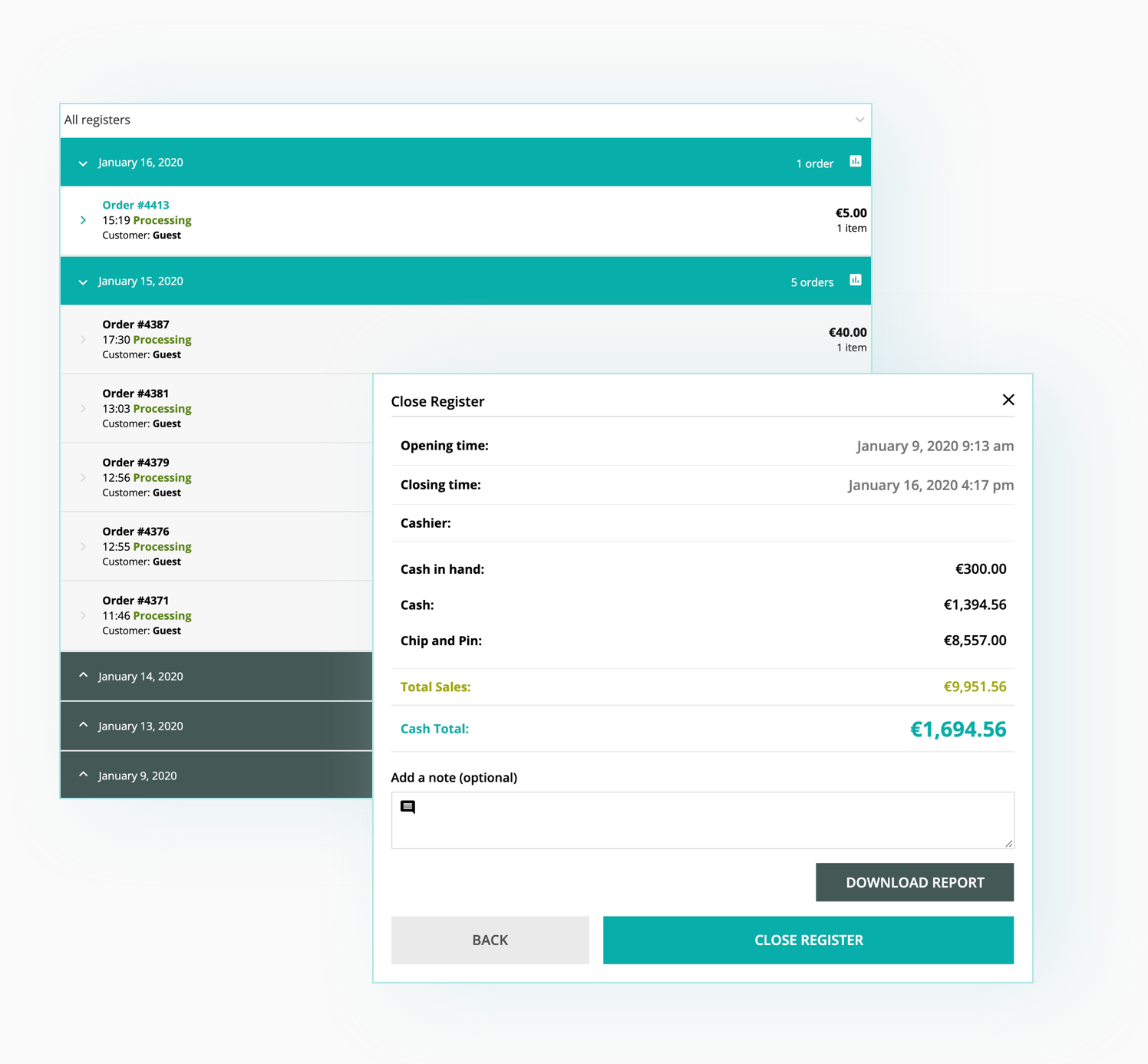 View all the orders made through a specific POS register in a tab and download the register closure report
With our plugin, you can track all the orders made through the POS register on a dedicated view and download or print a register closure report including orders and sales made.
Scan the products (with a SKU-based search) or take advantage of the integration with our YITH Barcodes plugin
Allow the cashier to find products by SKU or by the barcode generated through our YITH Barcodes plugin to speed up and simplify the purchase process.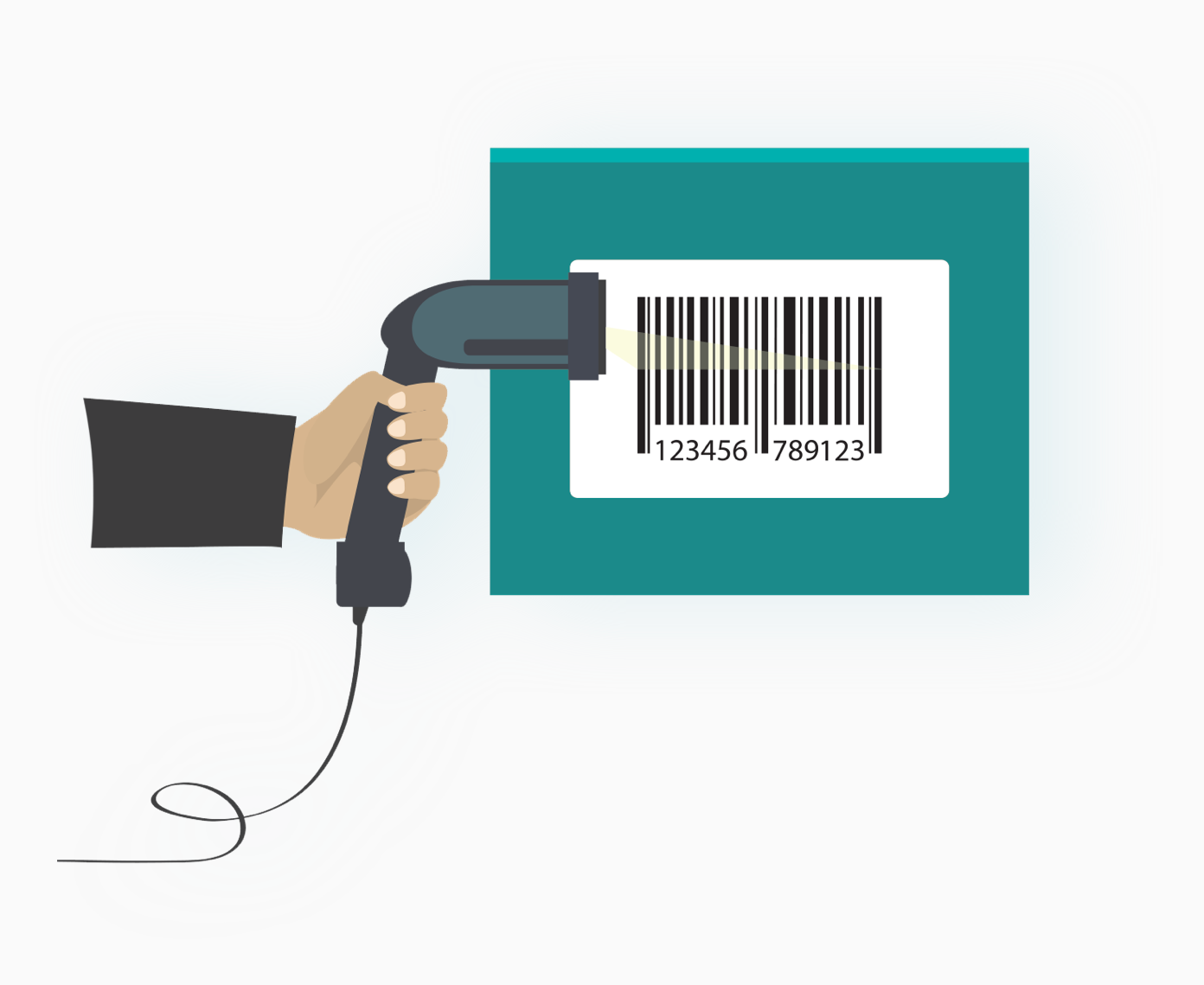 FEATURES
STORES
Create a store in few steps through the Wizard setup
For every store you can:

add billing information (store name and VAT), address, contact details and social networks
enable/disable the Store
add and enable/disable specific POS Registers
check the status of Registers (closed/opened) and Cashiers currently logged in
customize multiple receipt templates
stock management on a product level for each store
choose one or more Store Managers and Cashiers
create new user accounts during the Store setup
REGISTERS
Create as many POS Registers as you wish
enable/disable specific payment methods for each Register
show all products or just selected products or categories for each Register
show all products together or by category
enable product barcode scanning
assign specific Cashiers
enable printed receipts
choose one of custom receipt template
enable the register closure report
POS TERMINAL SCREEN
Mobile ready: save the POS page on your mobile device and open it as any other mobile app
Register screen:

Customize the login page
Upload a Store logo that will show up on the login page and in the Register screen
Preset discount keys
Customize the Register screen colours
View and filter products (all, on-sale, featured)
Search products by title, SKU and barcode
Activate the barcode scanner: just scan the barcode to add the product to the cart
Add a new product from the Register screen (if added by the Manager it could be saved for future sessions as well)
Associate the current order to an existing user or register a new user account during the Register session
Edit customer billing and shipping information before completing the payment
Freeze and save carts and add notes on them. You'll be able to retrieve them later and let the customer finalise the purchase
Actions on the cart:

Empty the current cart
Edit the price of every single item in the cart
Add/edit notes on the cart or on every cart item
Apply discounts or fees
Apply coupon codes
Add shipping costs

Split payment: allow customers to use more than one payment method to pay for the same order
Easy and intuitive payment screen including total due, total paying, balance, change and smartly calculated amounts
Full screen option
Enable/disable the sound of product added to the cart

Add cash in hand: you can either add it when opening a Register and during the session
Register report: view all the Store orders sorted by date and filterable by register. You can view the order details and print the receipt once again.
View today's profit of a POS register including login time, Cashiers logged in during the session, total cash in hand, total sales by payment method
Register closure: close the Register and download a closure report with today's profit details and additional notes. Cashiers' stats: time since login, number of orders created, sales total, download a report.
DASHBOARD STATS AND ORDERS
Dashboard integrated with WooCommerce Admin plugin where you can:

Show statistics by a custom date range
Filter orders and sales by store
Filter orders and sales by POS register
Show number of orders, net total, average order value, average products per order, number of products sold, new users, loyal customers, coupons used
Compare statistics with a previous time period or with the past year
Show sales report by day or week or month
Show sales in a line chart or bar chart
Show revenue by payment method
Show revenue by cashier

Filter orders by 'placed through a POS system' or 'placed online'
Show in the order detail: store, POS register, cashier, and payment methods used.
PLUGIN INTEGRATIONS
With 
"Integration"
 between two or more of our plugins, we mean that the features provided by these products combine, offering further value and options than when they are individually used. All the plugins listed in this section are 
not included
 in YITH Point Of Sale For WooCommerce (POS). In order to take 
advantage of a specific integration
, you need to purchase and activate the premium version of the related plugin.
Plugin name
Description
YITH WooCommerce Barcodes and QR Codes
YITH WooCommerce Barcodes and QR Codes allows users to create barcodes and QR codes for all kind of products (both simple and variable ones) and shop orders. The code can be assigned manually or automatically every time a product or an order is created. Thanks to dedicated shortcodes, it's also possible to apply specific actions to products and orders right after scanning their barcode.

+
SCREENSHOTS
SETTINGS
POS SCREEN